Directions to Railway Lake and Willow Lake, Thuxton, NR9 4QJ
From Norwich come out on the B1108 towards Watton. After approx. 7 miles you will arrive at Barford and when you see the pub (The Cock Inn) on the left, set your milometer.
Carry on towards Watton and 2.8 miles from the pub, veer right at Skipping Block Corner and head straight down Dark Lane.
At 3.2 miles (from the pub) you will reach the main Wymondham to Dereham road, the B1135. Go straight, so you are heading towards Dereham.
You will pass through Hardingham and at about 6.1 miles there is turning on the right to Thuxton. Take this road, which is called Station Lane.
There is an entrance to a house and after this you will see 2 iron bar gates on the left, which is the entrance and driveway to the lake (opposite the farm).
Online Map:
A map of the Railways Lake location is below, or view any of the online maps via the links: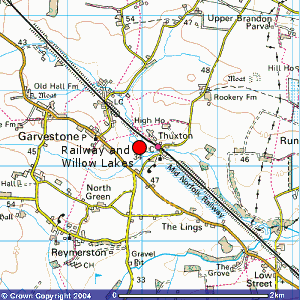 Image produced from the Ordnance Survey Get-a-map service. Image reproduced with kind permission of Ordnance Survey and Ordnance Survey of Northern Ireland.