About Barford Lakes
One of the most popular privately-owned still water coarse fisheries in East Anglia, Barford Lakes are about 7 miles West of Norwich, in Norfolk. The fishery offers a range of sport to suit pleasure, match and intermediate carp anglers and has been featured in many angling magazines and on 'Sky' Television's 'Tight Lines' programme and Discovery's 'Carp Crew 2'.
Pleasure catches of more than 100lbs are common and some have been known to break the 200lb mark.
The fishery was started just over 15 years ago and since then has developed into a popular match and pleasure venue. Barford Lakes offer two pleasure day-ticket lakes, a training lake (which is only charged at £2.50 for beginners) and a 30 peg match water on the main site, as well as 4 other match lakes nearby.
Take a look at The Lakes to see the waters we have available to fish and get a taste of what we have to offer.
On the main site at Barford there are full facilities with ladies, gents and disabled toilets and a fully stocked tackle shop offering great deals on a range of fishing equipment, accessories and baits, including hook bait and ground bait.
You can pre-order your baits by telephone calling Daniel on 01603 759624, or email us at daniel@barfordlakes.com to ensure availability.
From the tackle shop we also sell hot drinks, refreshments, snacks and confectionery, EA Rod Licences and we even offer a rod hire service. Angling advice is free of charge!
With the wheelchair user in mind there are pegs which are easily accessible with immediate car access. These pegs can be pre booked in advance.
Meet the Team
Daniel Brydon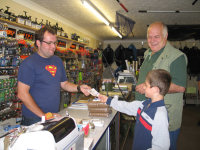 Our Tackle Shop Manager Daniel Brydon has been in the tackle trade for the last 12 years and has seen the industry changing at a rapid rate, with this in mind our Barford Tackle website has been created.
Daniel is a very experienced match angler but also enjoys ALL of the disciplines of angling from Fly, Carp and Pike to Sea Fishing, with this has come the knowledge to answer most question asked, What baits?, rigs etc, etc...
Having fished for some of the top teams in East Anglia, he is now fishing for Browning Hot Rods, where he competes in National and Local leagues. His favourite method is chopped worm and caster on the pole as this catches anything that swims and has given him his best results on the open match circuit.
Daniel prides himself as a likeable and reliable person and wants to give the best service to his customers. In the very competitive market place Daniel believes that the personal touch still has a place whether it be giving advice or teaching people. Daniel is a qualified PAA (Professional Angler Association) coach and has helped develop and bring many new anglers to the sport since joining us at Barford Lakes and Tackle and through feedback from his customers we have launched the Tackle Shop website.
If you have any questions whether it's what methods, baits where to fish etc, please don't hesitate to get in contact at: daniel@barfordlakes.com alternatively give him a call on (01603) 759624.
John Lake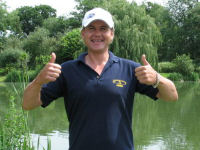 John Lake is our bailiff/bank steward and you will see him checking tickets and providing a friendly face and advice on methods and baits. You will also see him catching plenty of fish on Wednesdays and Saturdays.
John makes every effort to maintain the friendly atmosphere around the lakes which Barford is very proud of.
Sarah Thomson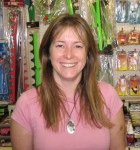 Sarah started the shop in May 2004 and travelled on a very steep learning curve with bait and the ordering of tackle.
Sarah is an angler although self admittedly a fair weather one!!  Although she has is not without achievements within angling as she won the Ladies and Gents Pairs match in 2006 where she and her partner, Ray Smart came 1st and 2nd on the Match Lake, she also won another pairs event at Tingrith Fishery at the Terry Freeman Memorial match where she also won her section.
Her favourite method of angling is mid-water on the pole, as this is an active way of fishing which suits her attention span! Sarah also enjoys catching the quality 'Silver fish' on a light waggler rod on our very own Pleasure Lake.