Directions to Colton Lake, NR9 5DG
On the Norwich Southern by-pass (A47) heading towards Swaffham, pass the Norfolk Showground/A1074 exit and continue to the next roundabout.
Turn left (1st exit) then take the turning immediately on the right.
Follow this road for about a mile, which will include a sharp bend to the left (which has a green barn/building on the corner).
A little way after the bend take the turning to the right for 'Colton' and continue through the village, taking the second turning on the left (should be signposted "The Ugly Bug").
After 75 yards there is a dirt track on your right, take this and you will see the Colton Lake sign ahead of you. The car park is on the right and the lake is up the slope.
Online Map:
A map of the Colton Lake location is below, or view any of the online maps via the links: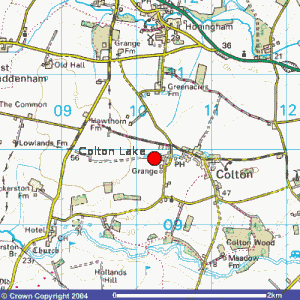 Image produced from the Ordnance Survey Get-a-map service. Image reproduced with kind permission of Ordnance Survey and Ordnance Survey of Northern Ireland.