52 anglers fished Choppy's memorial match on Saturday 22nd October all the lakes at Barford and Colton Lakes. All the peg fees were donated into a fund for a defibrillator to be kept at the lakes at Barford.
We took special care to ensure we bought the right one and after advice bought a fully automatic machine for use on both children and adults.
Thank you all again for contributing to this great cause ……
The Defibrillator is now located in the shop and up and running.
Here is a photo of Tracey proudly showing Kevin's Legacy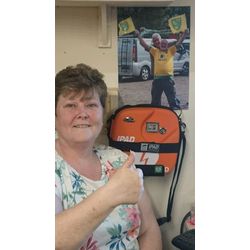 Thanks so much to Kevin's partner for 8 years, Tracey Davis. It was a hard day for all involved, especially Tracey, but between her, her Mum and her friend, Stella there was a great spread for the anglers at the end with sausage rolls, sandwiches and homemade cakes. The café gave everyone a free bacon/sausage bap and teas in the morning and their food at the end was welcomed by all who fished. Big thanks also to Ian Ingram who trained us up to use this equipment in January this year and has offered to provide further training for the defib free of charge – top work – thank you Ian.
from all at Barford Lakes